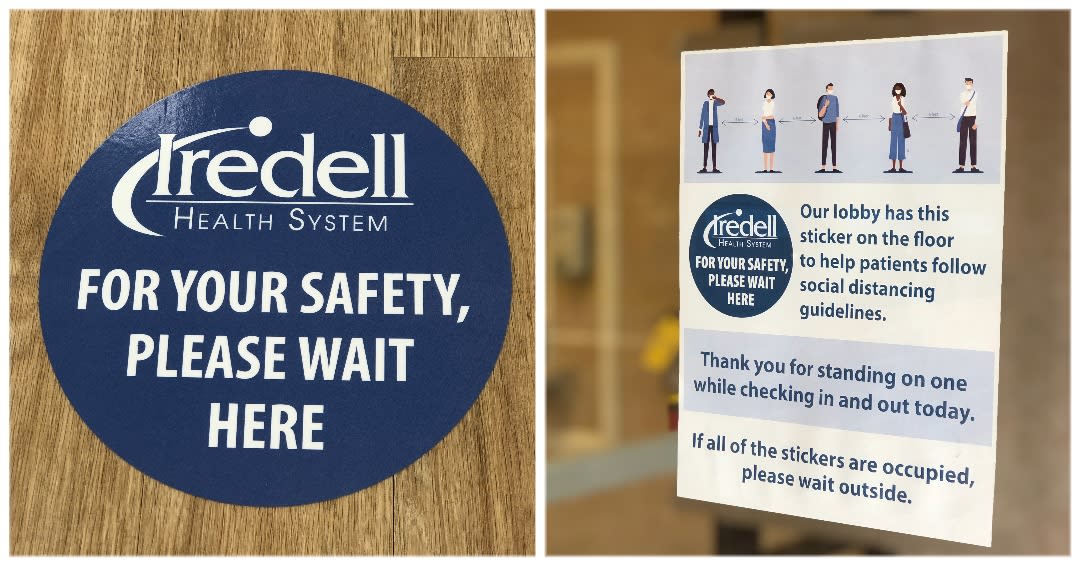 Iredell Occupational Medicine is welcoming patients to a new normal, implementing enhanced safety protocols that offer patients the same quality of care they have grown to expect from all Iredell Physician Network offices while also providing peace of mind.
With continued diligence in cleaning practices, Iredell Occupational Medicine has new procedures and practices that will keep patients and staff safe as in-person visits increase.
Masks are required at our facility for patients, visitors and staff. If you are medically unable to wear a mask, you are encouraged to call our office prior to your scheduled time to let us know so we can assist you in adapting your appointment to a telehealth or car-side visit.
Schedule a virtual visit!
Worried about coming to our office during COVID-19?
Iredell Occupational Medicine can now treat patients over the phone or through video. We also offer car-side visits, which allow a patient to remain in their vehicle for their appointment.
Call 980.444.2630 to schedule your virtual or car-side visit.
Occupational Medicine
Iredell Health System is proud to offer a comprehensive occupational health medicine program to business and industry in Iredell County. We understand that communication is key in providing great, cost-effective healthcare for your employees. We promise to listen closely to your needs and communicate with you every step of the way.
Iredell's occupational department is led by Dr. Joe Wolyniak, a specialist in occupational and urgent care medicine. Our occupational department also includes nurse practitioners and a team of physical therapists, exercise specialists, certified medical assistants, a certified medical case manager and a certified functional evaluator.
Partnering with employers
We look forward to partnering with employers to develop an Injury Management System to reduce and prevent future injuries. A successful program will result in cost savings and increased productivity from staff. At Iredell Occupational Medicine, we understand that communication and convenience are key in delivering quality, cost-effective healthcare for your employees. Our multidisciplinary team provides a wide range of services, which can be administered on-site for added convenience.
Services
Iredell Occupational Medicine is an expert resource for businesses to ensure the health and safety of their employees. We provide your company with the services you need for the prevention and treatment of work-related injuries and illnesses.
All of our services are also available under one roof, making time away from the job as minimal as possible. Our aim is to build a partnership with your company to develop an Injury Management System to reduce and prevent future work-related injuries.
Immigration Exams
Iredell Occupational Medicine has been providing immigration examinations in Mooresville, NC for nearly 5 years. Dr. Joseph Wolyniak is USCIS certified as a medical examiner for these provisions.
Dr. Wolyniak is available by phone for immigration related health exam questions. Anyone wishing to make an appointment can simply call the office. Please also feel free to call with any questions to help assist in your process. Call 980.444.2630 weekdays, 8:00 AM to 6:00 PM.
Rapid Flu Clinic
When you or someone in your family has fallen ill and you want to start the healing process as soon as possible, you can count on Iredell Occupational Medicine.
There's no need to wait for an appointment with your primary care provider — qualified healthcare professionals will treat you right away and offer prompt and affordable testing for rapid flu diagnosis and treatment. Walk-ins are welcome.